Spring Luncheon and Lecture
"The Crucible of a Culture: The Smithsonian's New National Museum of African American History and Culture"
by Rev. Leo J. O'Donovan, S.J., President Emeritus of Georgetown University
Wednesday, March 8, 2017
12-2 pm
GU Faculty Club [Conference Room 5/6]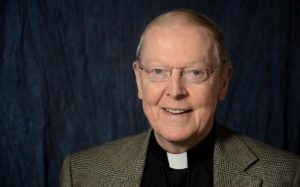 Leo J. O'Donovan, S.J., president emeritus of Georgetown University and currently Interim Executive Director of Jesuit Refugee Service/USA, was born in New York City on 24 April 1934. A graduate of Corpus Christi Grammar School on Morningside Heights in New York (1948) and of Iona Preparatory School in New Rochelle, N.Y. (1952), he graduated summa cum laude from Georgetown University in 1956, spent a year in France on a Fulbright Scholarship, and entered the Society of Jesus in 1957, in which he was ordained to the priesthood in 1966.
Fr. O'Donovan has taught at Loyola College (now University) in Maryland, Woodstock College (in New York), Weston School of Theology in Cambridge, MA, Fordham University, Union Theological Seminary in New York, and General Theological Seminary, also in New York.
Fr. O'Donovan holds degrees from Georgetown University (A.B.), Fordham University (Ph. L.), Woodstock College (S. T. B and S.T.L), and the University of Muenster, Germany (Th. D.) He has been awarded multiple honorary doctorates as well as the Tree of Life Award from the American Jewish Committee and the Great Service Cross with Star from the Federal Republic of Germany.
As President of Georgetown University from 1989 to 2001, he oversaw notable strengthening of the university's Board of Directors, a tripling of the university's endowment and also of its research agenda, the founding of major academic centers such as the Center for German and European Studies (now the BMW Center for German and European Studies), the Center for Muslim Christian Understanding, and the Center for Social Justice, and the maintenance of a needs-blind, full financial aid program to support the attraction of a diverse and vibrant student body.