Connect & Socialize
The Georgetown University Association of Retired Faculty and Staff (GUARFS) provides a number of opportunities throughout the year for retirees to connect with each other, enjoy cultural events and socialize. These include:
guided tours of museums, galleries, and other sites of cultural and historical interest in the area; and
luncheon meetings with featured speakers from the Georgetown community.
We offer a mix of in-person and virtual events. Not a paid-up member? Click here to join or pay your dues. Sign-up information will be sent in the GUARFS newsletter and special announcement emails will be sent in the GUARFS newsletter and special announcement emails.
---
Spring 2023 Special Events
---
GUARFS invites you to our third presentation on healthy aging on Wednesday, February 22 at 11:30 am EST. The topic this month is a presentation developed by the Alzheimer's Association on "Healthy Living for your Brain and Body: Tips from the Latest Research". The presenters will discuss practical lifestyle habits that can help maintain and even potentially improve our health, keep our brains well, and possibly delay the onset of cognitive decline.
Our presenters are:
Michael Smith, retired from Georgetown University in 2020 after serving from 1996-1999, as the Assistant Director of the University's Employee Assistance Program and from 1999-2020, as Director of the University's Office of Institutional Diversity, Equity, and Affirmative Action (IDEAA). Mr. Smith's affiliation with and personal connection to Alzheimer's came through dealing with his late wife's early on-set dementia at age 54. Upon his retirement, Mr. Smith wished to give back by volunteering as a Community Educator and Support Group Facilitator for the National Capitol Area Alzheimer's Association.
Laura Byer, Program Manager, Alzheimer's Association National Capital Area Chapter, is a lifelong educator with a background in both college student development and adult learning. All of the men in her family and ancestry have been diagnosed with Alzheimer's, so she also has a very personal connection to the disease. This also means that she will most likely inherit it as well at some point, making this work familial and personal at the same time.
To sign up for this informative event click here (new window).
This event is for current GUARFS members only. Not a member yet or need to pay this year's dues? Click here (new window).
---
Fall 2022 Special Events
---
In November and December, we gathered for two very special events. Watch for announcements soon about our planned Spring events.
On November 29 we held our annual holiday party. This year we partnered with the Office of Faculty and Staff Benefits and enjoyed a lovely evening in the elegant setting of Riggs Library. There was good food, fun entertainment by the Chimes, a heartfelt message from Fr. Mark Bosco and greetings from Provost Robert Groves. If you missed it, we plan an encore for next year!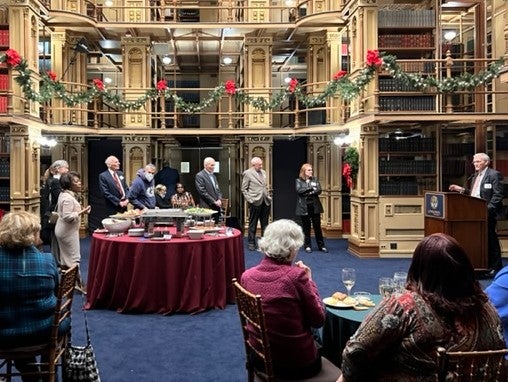 On December 3, a group of GU retirees enjoyed discounted tickets to attend the GU Men's Basketball game vs the University of South Carolina. At halftime GUARFS was honored—members of the Executive Council were welcomed onto the floor by Lee Reed, Director of Intercollegiate Athletics, while the announcer honored GUARFS and the many years of service of GU retirees.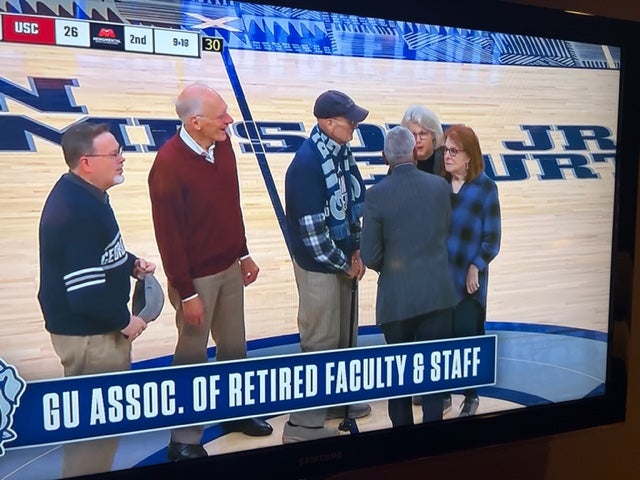 ---
Special Events from the 2021-22 Season culminated in the

Spring Mass and Luncheon with Guest Speaker, held in Dahlgren Courtyard on May 9th, 2022. Please see the President's report for a description of his event.
Other special events included a visit to

Glenstone Museum in Potomac, Maryland – an in-person and on-site gathering.
Virtual events included:
"The Kennedy Institute of Ethics: Past, Present, and Future,"

Daniel Sulmasy, current Director of the Institute

"Reflections on the 2020 Census"

Robert Groves, GU Provost & former director of the US Census Bureau

"White Space, Black Hood"

Sheryll Cashin, Carmack Waterhouse Professor of Law, Civil Rights & Social Justice, GU Law Center

"GU's Role in the District of Columbia Today"

Christopher Murphy, Vice President for Government Relations & Community Engagement, and
Heidi Tseu, Associate Vice President for Local Government & Community Engagement

"Child Development Revisited: All the Things We Thought We Knew"

Diane M. Jacobstein, Clinical Psychologist and Associate Professor of Pediatrics, GU Center for Child & Human Development

"Meaningful Philanthropy"

Mindy S. Bopp, Executive Director of Planned Giving