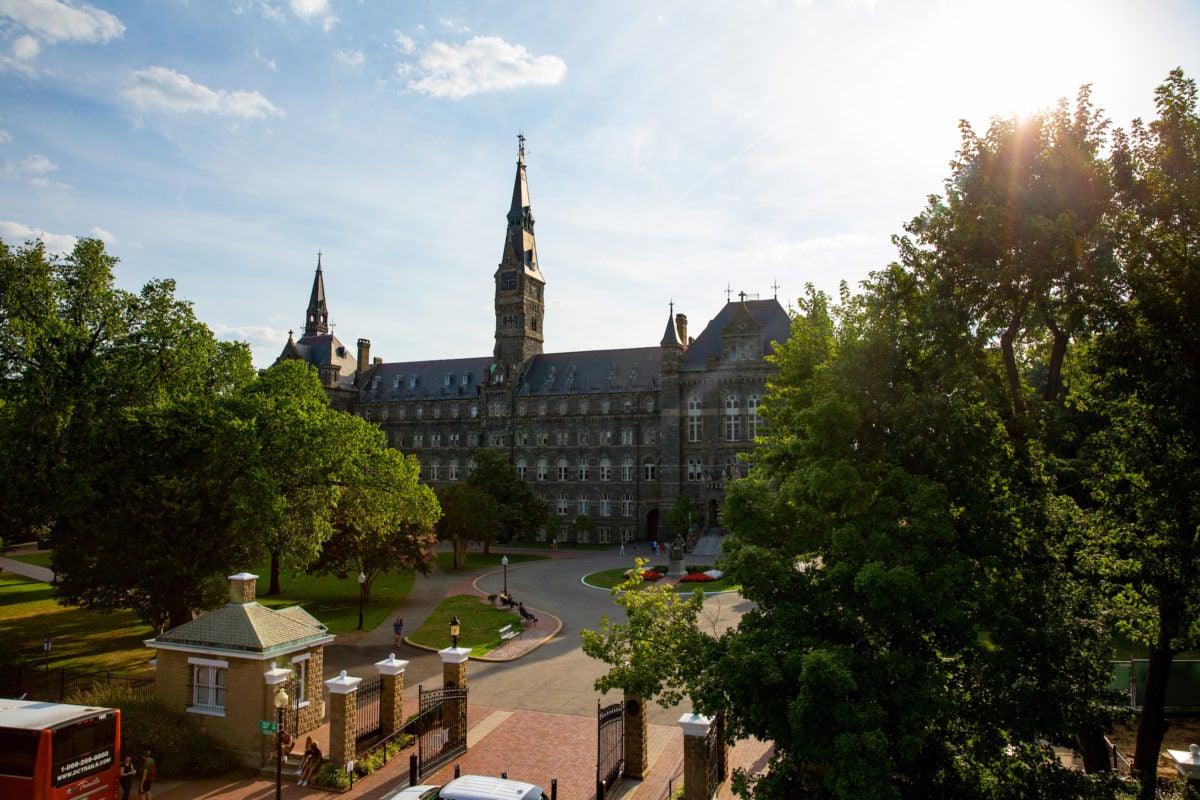 The goal of the Association is to serve as a liaison between retired faculty, AAPs, staff and the University, support its emeriti members' professional endeavors through retired faculty grants, facilitate social ties through lectures, tours, and cultural activities, provide volunteering opportunities, and reach out to the community through the Learning Community Program.
---
Executive Committee Meetings
September 9, 2019
October 7, 2019
November 4, 2019
December 2, 2019
March 2, 2020
April 6, 2020
May 4, 2020
1-3 pm
Location: River Room, Wolfington Hall
Georgetown University Learning Community Classes and Registration
Fall Luncheon and Lecture
October 16, Wednesday, GU Faculty Club
Speaker: Deborah Tannen, "Inside the Language of Friendship"
Speaker's Bio
Annual Holiday Party
December 15
Details will be forthcoming in early November
---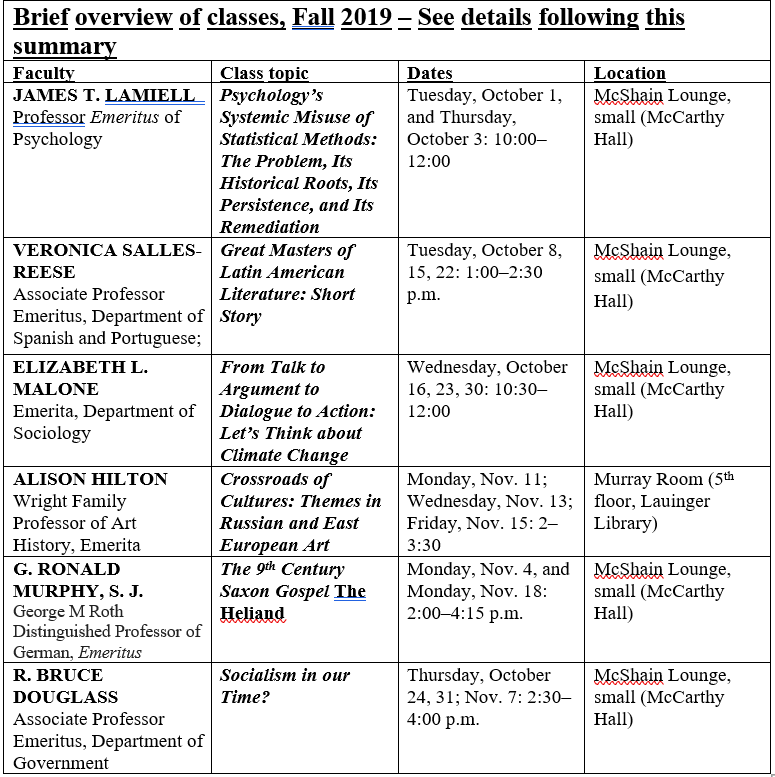 EXPANDED COURSE DESCRIPTIONS
JAMES T. LAMIELL
Professor Emeritus of Psychology
Specializing in History and Philosophy of Psychology
Psychology's Systemic Misuse of Statistical Methods: The Problem, Its Historical Roots, Its Persistence, and Its Remediation
Tuesday,October 1, and Thursday, October 3: 10:00–12:00
McShain Lounge, small (McCarthy Hall)
Please note both the dates/time for this course

In 1867, the German polymath Moritz Wilhem Drobisch (1802–1896) wrote: "It is only through a great failure of understanding [that] the mathematical fiction of an average man … [can] be elaborated as if all individuals … possess a real part of whatever obtains for this average person."
Unfortunately, mainstream thinkers in scientific psychology uncritically incorporated exactly this 'great failure of understanding' into the discipline's research methods canon early in the 20th century, and that view has continued to dominate thinking within the field up to the present. This is true despite several thoughtful and penetrating critiques of resulting interpretive practices dating as far back as the middle of the 20th century. The untoward consequences of mainstream psychology's obdurate confusion on this fundamentally important matter are both epistemic and socio-ethical. In the epistemic domain, researchers routinely overstate what they may justifiably claim to know about individuals on the basis of their empirical findings, and the result is bad psychological science. In the socio-ethical domain, practitioners routinely overstate what they may justifiably do, or endorse doing, under the banner of scientifically licensed interventions, resulting in the endorsement or execution of ethically questionable professional practices. In this course, we will examine just how the 'great failure of understanding' identified by Drobisch came to be incorporated into scientific psychology, why its persistence must be understood as having transformed what was once a genuinely scientific psychology into a species of demography, and what will be required in order for the discipline to reclaim its disciplinary mission as a scientific psychology.
VERONICA SALLES-REESE
Associate Professor Emeritus, Department of Spanish and Portuguese; specialized in Latin American literature and culture, particularly the Colonial Period.

Great Masters of Latin American Literature: Short Story
Tuesday,October 8, 15, 22: 1:00–2:30 p.m.
McShain Lounge, small (McCarthy Hall)
Please note the dates/time for this course
Since the 1960's Latin American literature has been a world phenomenon. This course will concentrate on short stories written by some of the greatest narrators: Jorge Luis Borges (Argentina), Julio Cortazar (Argentina), Gabriel García Marquez (Colombia), Alejo Carpentier (Cuba), Mario Vargas Llosa (Peru), Juan Rulfo (Mexico), Clarice Lispector (Brasil), and Luisa Valenzuela (Argentina).
ELIZABETH L. MALONE
Emerita, Department of Sociology
From Talk to Argument to Dialogue to Action: Let's Think about Climate Change
Wednesday, October 16, 23, 30: 10:30–12:00
McShain Lounge, small (McCarthy Hall)
In Session 1 we will examine how people have framed and argued about climate change: what it is (and isn't), how we "should" think about it, and what we can/can't, should/shouldn't/or will/won't respond to its effects. Through an interactive session we will list and categorize various statements about climate change. Laying out the range of statements will be the first step in analyzing the sources of concern and disagreements.
In Session 2 we will focus on the elements that are important in forming ideas or stories about climate change. How do we know what we know? Why do we accept some arguments but not others? How and why do we change our minds? In an age in which claims about climate change can be manipulated and distorted, self-awareness about our knowledge claims—and those of others—is essential.
Session 3 will be devoted to ways in which research and communication about climate change can become more people-centered in order to connect climate issues with more immediate social issues. Starting with current systems and conditions, how can we better meet the needs of human individuals and societies while at the same time addressing climate change issues?
ALISON HILTON
Wright Family Professor of Art History, Emerita, Department of Art and Art History
Research emphasis on Russian and East European art (folk art, 19th century realism and impressionism, the avant-garde, Soviet era and non-conformist arts; interactions with western European artists and movements).
Crossroads of Cultures: Themes in Russian and East European Art
Monday, Nov. 11; Wednesday, Nov. 13; Friday, Nov. 15: 2–3:30
Murray Room (5th floor, Lauinger Library)
Please note both the dates/time for this condensed course
Eastern Europe and Russia have been defined by conflicting religious, social, and political values. The border lands marked the "iron curtain" between East and West for decades. But this region was also one of extraordinary richness in art and architecture. Its art represents a dynamic interaction of local traditions and foreign artistic sources, ranging from Greek, Roman, Byzantine and Ottoman to more modern European influences. Using examples from Russia, Poland, Czech and Slovak lands, Hungary, Romania, Bulgaria, the countries of former Yugoslavia, and Albania, we will identify characteristic functions and styles of arts for religious and courtly ceremonies, for political purposes and personal expression, within the framework of several pervasive themes. These ideas include: visions of the sacred; the enlightenment, secular arts and patronage; critical historical events and assertion of national identities; arts and social issues; and preservation of cultural heritage. We give special attention to two conditions that profoundly affected the arts of these countries: awareness of innovations in Western Europe, and state control of the arts by totalitarian regimes.
G. RONALD MURPHY, S. J.
George M Roth Distinguished Professor of German, Emeritus

I am interested in the intersection of religion and literature throughout the history of German literature, more recently in the role of Germanic mythology in the interpretation of medieval literature and culture in the Germanic world.
The 9th Century Saxon Gospel The Heliand
Monday, Nov. 4, and Monday, Nov. 18: 2:00–4:15 p.m.
McShain Lounge, small (McCarthy Hall)
Please note both dates and times
We will engage in a thoughtful and meditative reading of the ninth-century Heliand and its inter-cultural poetry as it attempts to get the whole gospel story into the world and categories of the Germanic tribe of the Saxons. It is amazingly successful and a revelation!
Please bring to class a (paper) copy of my book The Heliand, the Saxon Gospel: A translation and commentary (Oxford University Press, 1992).


R. BRUCE DOUGLASS
Associate Professor Emeritus, Department of Government; former Department Chair; Dean of the Faculty of Georgetown College
Political theorist, specializing in 19th and 20th century Western political thought; author of The Iron Cage Revisited—Max Weber in the Neoliberal Era (among other works)
Socialism in our Time?
Thursday, October 24, 31; Nov. 7: 2:30 p.m. – 4:00 p.m.
McShain Lounge, small (McCarthy Hall)
Socialism is a political cause with which Americans today tend to have little experience. In the past there have been times when socialists played a sufficiently prominent role in American life that the better informed parts of the population, at least, had a reasonably good grasp of what socialists stood for. There were localities and even some states where the candidates of socialist parties actually won elections, and even if their nominees never came close to winning national elections, some of them (Eugene Debs and Norman Thomas, e.g.) were notable figures whose ideas had to be taken seriously. But that has not been true for some time now. So twenty-first century Americans are ill prepared to make intelligent sense of candidates for public office who cast themselves as socialists. When a Bernie Sanders or an Alexandria Ocasio-Cortez defines him or herself as a socialist and openly advocates socialist policies as the solution to the nation's problems, therefore, even the pundits are befuddled. What exactly, they ask, does it mean to be a socialist? When such figures cast themselves as democratic socialists, what does that mean? Is such a thing really possible? And above all, there is this question lurking in the background: why should we believe that socialist ideas are relevant in our time, given the fact that not long ago (the 1990's) even progressives were telling us that socialism was an outdated project? This course is designed to provide the participants with the information necessary to make well informed judgments about these matters. It will combine a succinct review of the relevant history with an analysis of the problems socialist parties have faced elsewhere in the industrialized world in the past half century.